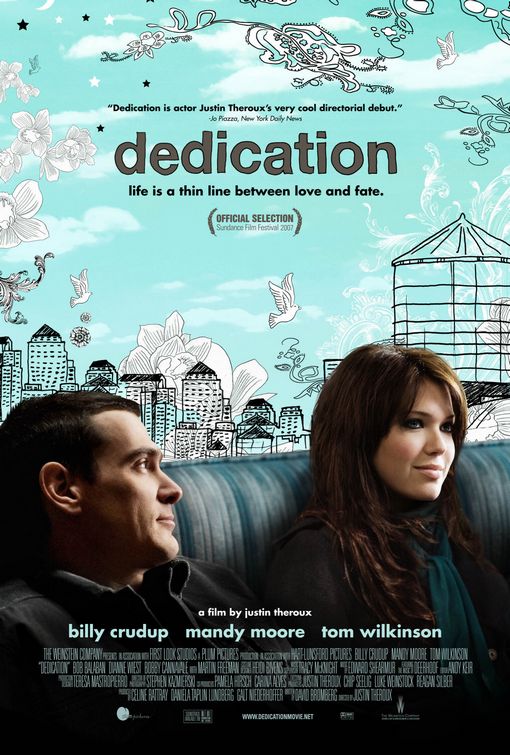 I always dread when someone asks me what my is my favorite movie.
Why?
Because I always am *shrug* don't have one.
Well that was
before
I watched
Dedication
last year.
This movie was amazing, I mean it did have some weirdness to it, but trust me they can be easily overlooked because you can help but love the main character Henery Roth played by the amazing Bill Crudup.
Okay here's what it is about:
Henry Roth is messed up. A New York children's

book

author

who tells kids that Santa doesn't exist, he hates sleeping with- and next to- anyone, including his girlfriend and must lay on the floor, usually with heavy objects on top of him just to feel safe. His motto is "Life is nothing but the occasional burst of laughter rising above the interminable wail of grief."

"Dedication," a modern love story in which a misanthropic, emotionally complex author of a hit children's book series (Billy Crudup) is forced to team with a beautiful illustrator (Mandy Moore) after his best friend and creative collaborator (

Tom

Wilkinson

) passes away marks the directorial debut of Justin Theroux. As Henry struggles with letting go of the ghosts of love and life, he discovers that maybe all it takes is a little dedication.
This movie, in my opinion was awesome. Seriously watch it. Billy Crudup's performance was so freaking great. He's the only reason why I would even wanted to send seven bucks and go to the theaters to see Watchmen.
And you know what the really scary thing is? Mandy Moore was even great. I never really liked her in How To Deal, the movie adaptation of Sarah Dessen's novel or A Walk to Remember. I always saw her an ehh actress, never really pleased by her performance. But Mandy Moore in this movie was pretty damn good.
The plot itself was simple nothing to extraordinary. But this movie has to be one of the best romantic comedy ever. All because, and I know I said this before of Henry Roth. He has one fucked up person, that you can't help but love.
Overall an amazing movie, with the best characters ever. And for those of book reviewers, there's even a mention of galley copies of book. ;)
BUT BE WARNED: The movie's rated R because of language and sexual content, the lather is very minimal.
Here's a trailer: